Silent Film: The Mark of Zorro
Anchorage Symphony Orchestra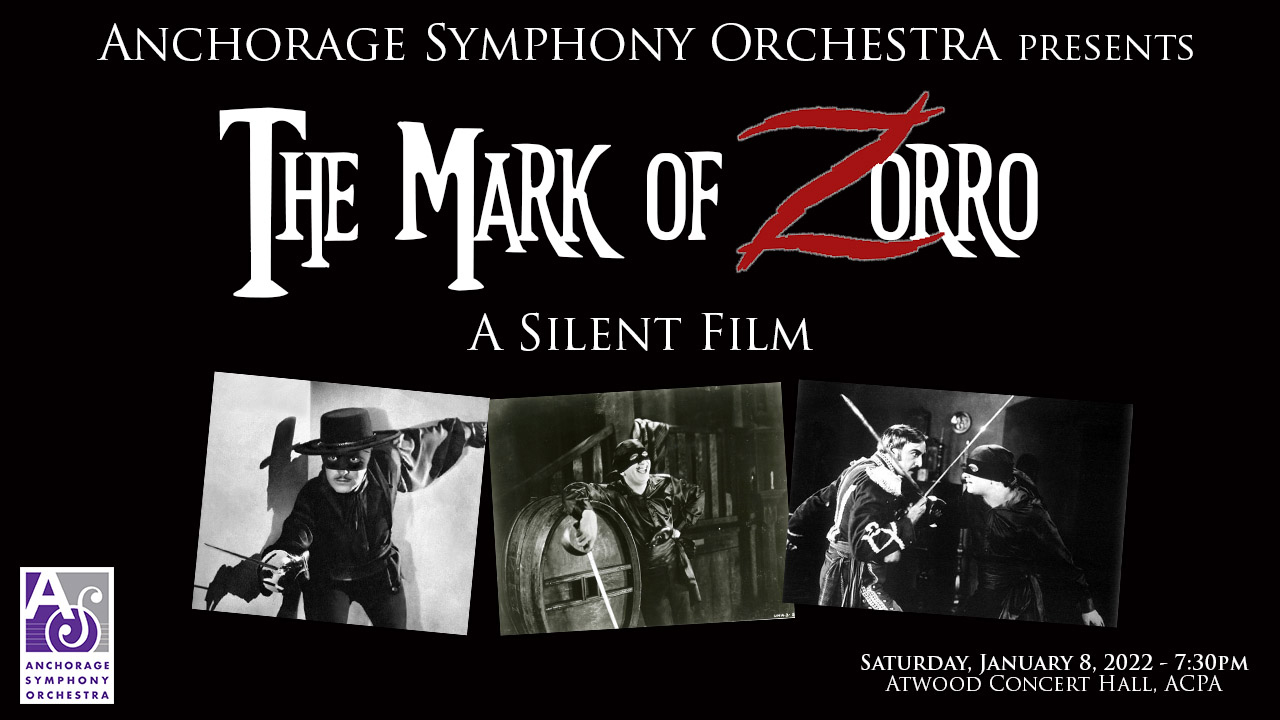 Duration

2 hr

Ages

All

Price From

$22.50
Event Info
Experience one of the FIRST action-adventure movies as it was intended with the authentic 1920 music score performed LIVE by your Anchorage Symphony and conducted by Rick Benjamin.
With his trademark "Z", Zorro became the prototype for today's action heroes. Legendary silent screen actor, Douglas Fairbanks stars in this daring film made before the age of stunt doubles or green screens.
Come cheer on the hero, boo at the villains, and laugh at the gags. It is the perfect way to warm up on a cold January night!
50% Capacity
Seating capacity has been reduced to less than 50% to allow family groups to remain separated during the event.
ASL Interpreted
An ASL interpreter will sign this event in American Sign Language. Seats with a view of the interpreter are labeled as "Interpreter View" seats on the seat selection map.
Babies
Ticket required for all ages
Unaccompanied Minors (Under Age 21)
Seating for unaccompanied minors under age 21 is limited to the orchestra level (first floor) only. Minors attending with their own parent or legal guardian may sit in any seat.
Patron Lounge
The Gregory M. Carr Family Lounge opens 1 hour prior to this event. Access is an exclusive benefit for the PAC's major donors. Capacity is limited. Find out more at PAC Patron Lounge.
COVID-19 Protocols
Subject to Change
All COVID-19 Protocols are temporary and subject to change.
Proof of Vaccination, Negative Test, or Recent Recovery
All attendees must provide one of the following:
Proof of vaccination against COVID-19 completed at least 2 weeks prior to the event

Proof of a negative result for a COVID-19 test taken within 72 hours of the event

Proof of recovery from a positive COVID-19 diagnosis no more than 90 days prior to the event and no less than 11 days prior to the event.
Face Coverings Required
Face masks must be worn over the nose and mouth by all audience members. Staff will be wearing masks too. If you do not have a mask, we have a free one for you.
Self Assessment
Please stay home if you have had a fever or experienced COVID-like symptoms within 48 hours of the event.
50% Capacity
Audience members will be required to sit only in their seats, which have been assigned to allow for physical distancing. The capacity for this event has been reduced to 50% so that household groups can be spaced several feet apart.
Accessibility
If you already have tickets and are concerned that your current seats may not fulfill your needs, please complete this special seating request form.
Wheelchairs

All levels of the Performing Arts Center have wheelchair accessible locations where patrons may either remain seated in their wheelchairs or transfer to portable seats. Courtesy wheelchairs may be borrowed while on site thanks to the Carolyn Ramey Memorial Fund.

Reserved Seating:


Select seats labeled with a wheelchair icon to choose these seats.

Scooters

All levels of the Performing Arts Center have scooter accessible locations where patrons may either remain seated in their scooter or transfer to portable seats. Scooters cannot be placed in the aisles due to the Performing Arts Center's evacuation plan. Patrons are welcome to transfer to a Performing Arts Center transport wheelchair in the lobby to gain access to permanent seat locations. Scooters will be stored in the lobbies.

ASL Interpreter

Confirmed:


An ASL Interpreter will sign this event on 01-08-2022.
Select seats labeled with an eye icon to purchase seats with a view of the interpreter. For more information, send us a message from our CenterTix contact page or call 907-263-ARTS (2787).

Assistive Listening Devices

Sound from the stage is broadcast directly to you by our in-house listening system (Listen Technologies LR-52000-072). This system has a standard 3.5mm output jack, so you can use your own headset or one of our stereo headsets. A limited number of T-coil compatible loop lanyards are also available. Listening devices are kept at the House Manager's station in the lobby prior to and during performances. This service is free of charge, however a deposit or ID is required.

Braille or Large Print

Programs are available if requested at least 3 weeks prior to the event.

For more information about Accessible Services please call 907-263-ARTS (2787) or submit our contact form.
Venue Details
Atwood Concert Hall
Alaska Center for the Performing Arts
621 W. 6th Ave
Anchorage, AK 99501