Perfect Harmony: Music of the "Fête galante"
Anchorage Festival of Music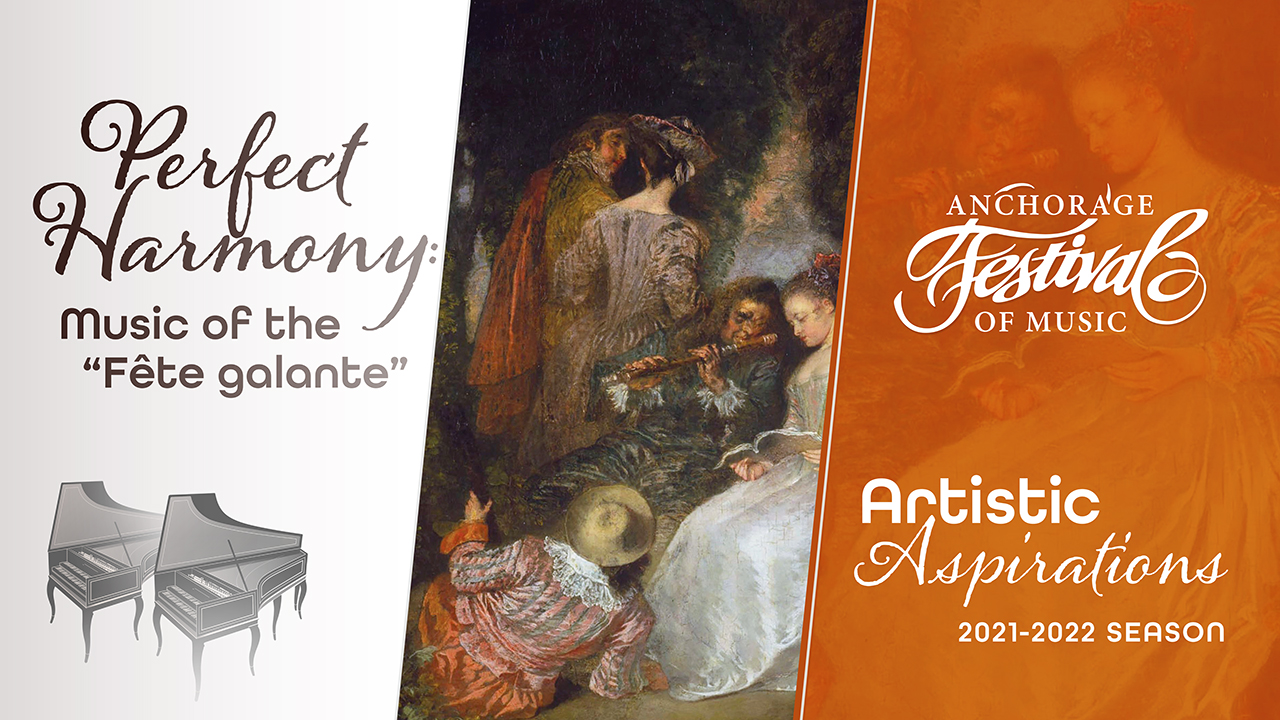 Duration

2 hours

Ages

4+

Price From

$35
Event Info
The fête galante was an early 18th-century movement in the French visual arts designed to stir emotions through familiar but idealized pastoral scenes of elegantly dressed people at leisure or play. This program will feature the works of Jean-Philippe Rameau, François Couperin, and Jean-Marie Leclair who translated the fête galante into music. Their songlike melodies and chordal harmonies directly engage the listener's heart with images of nature, shepherds, and toe-tapping country dances. The concert will be video recorded for later release online, with limited seating for the live performance. A small studio audience will not only experience behind-the-scenes production of a virtual concert, but will also have a rare chance to hear and see two full-sized double manual harpsichords––a scene worthy of a fête galante painting!
Featuring:
Jonathan Salzedo, harpsichord
Susan Wingrove-Reed, harpsichord
Victoria Fraser, soprano
AFM Baroque Orchestra:
Laura Koenig, flute
Dawn Linsday, violin
John Lutterman, cello
Linda Ottum, cello
AFM's Baroque Reflections - 2020
Babies
Ticket required for all ages
COVID-19 Protocols
Subject to Change
All COVID-19 Protocols are temporary and subject to change.
Self Assessment
Please stay home if you have had a fever or experienced COVID-like symptoms within 48 hours of the event.
Proof of Vaccination, Negative Test, or Recent Recovery
All attendees must provide either proof of vaccination against COVID-19 completed at least 2 weeks prior to the event, or proof of a negative result for a COVID-19 test taken within 72 hours of the event. or proof of recovery from a positive COVID-19 diagnosis no more than 90 days prior to the event and no less than 11 days prior to the event.
Face Coverings Required
Face masks must be worn over the nose and mouth by all audience members. Staff will be wearing masks too. If you do not have a mask, the PAC has a free one for you.
Physical Distancing
Audience members will be required to sit only in their seats, which have been assigned to allow for physical distancing. The capacity for this event has been reduced to 50% so that household groups can be spaced apart.
Accessibility
If you already have tickets and are concerned that your current seats may not fulfill your needs, please complete this special seating request form.
Wheelchairs

All levels of the Performing Arts Center have wheelchair accessible locations where patrons may either remain seated in their wheelchairs or transfer to portable seats. Courtesy wheelchairs may be borrowed while on site thanks to the Carolyn Ramey Memorial Fund.

Reserved Seating:


Select seats labeled with a wheelchair icon to choose these seats.

Scooters

All levels of the Performing Arts Center have scooter accessible locations where patrons may either remain seated in their scooter or transfer to portable seats. Scooters cannot be placed in the aisles due to the Performing Arts Center's evacuation plan. Patrons are welcome to transfer to a Performing Arts Center transport wheelchair in the lobby to gain access to permanent seat locations. Scooters will be stored in the lobbies.

Assistive Listening Devices

Sound from the stage is broadcast directly to you by our in-house listening system (Listen Technologies LR-52000-072). This system has a standard 3.5mm output jack, so you can use your own headset or one of our stereo headsets. A limited number of T-coil compatible loop lanyards are also available. Listening devices are kept at the House Manager's station in the lobby prior to and during performances. This service is free of charge, however a deposit or ID is required.

Braille or Large Print

Programs are available if requested at least 3 weeks prior to the event.

For more information about Accessible Services please call 907-263-ARTS (2787) or submit our contact form.
Venue Details
Sydney Laurence Theatre
Alaska Center for the Performing Arts
621 W. 6th Ave
Anchorage, AK 99501