Voyager One - Screening
Perseverance Theatre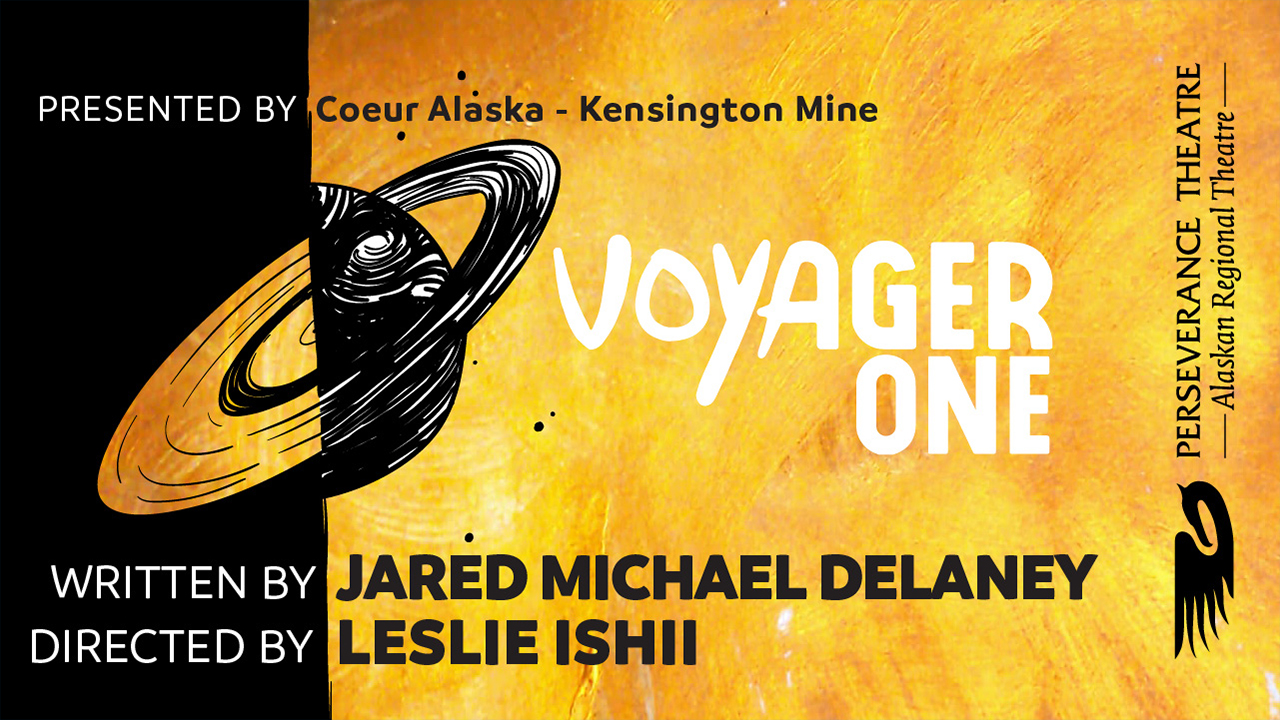 Duration

90 min

Ages

12+

Price From

$25
Event Info
Which song would you choose to represent all of humanity? Something by Elvis Presley? Aretha Franklin? Maybe Little Richard? In the 1970s, two junior-level NASA staffers help select which pieces of human history, science, and art will spend eternity on the Voyager One space probe, waiting to be discovered by alien life.
Flash forward to the distant future, and we find a mysterious woman who has awakened on a spacecraft with no memory of who she is or how she got there. What has humanity become and where is it going?
Join us on a journey through space, time, and rock and roll, all while Chuck Berry sings "go Johnny, go."
This is a screening of a performance recorded live on the Perseverance Theatre Mainstage.
COVID-19 Protocols
Subject to Change
All COVID-19 Protocols are temporary and subject to change.
Proof of Vaccination
All attendees must provide proof of vaccination against COVID-19 completed at least 2 weeks prior to the event. Matching photo I.D. required for ages 18 and older.
Face Coverings Required
Face masks must be worn over the nose and mouth by all audience members. Staff will be wearing masks too. If you do not have a mask, we have a free one for you.
Self Assessment
Please stay home if you have had a fever or experienced COVID-like symptoms within 48 hours of the event.
50% Capacity
Audience members will be required to sit only in their seats, which have been assigned to allow for physical distancing. The capacity for this event has been reduced to 50% so that household groups can be spaced several feet apart.
Accessibility
If you already have tickets and are concerned that your current seats may not fulfill your needs, please complete this special seating request form.
Wheelchairs

All levels of the Performing Arts Center have wheelchair accessible locations where patrons may either remain seated in their wheelchairs or transfer to portable seats. Courtesy wheelchairs may be borrowed while on site thanks to the Carolyn Ramey Memorial Fund.

Reserved Seating:


Select seats labeled with a wheelchair icon to choose these seats.

Scooters

All levels of the Performing Arts Center have scooter accessible locations where patrons may either remain seated in their scooter or transfer to portable seats. Scooters cannot be placed in the aisles due to the Performing Arts Center's evacuation plan. Patrons are welcome to transfer to a Performing Arts Center transport wheelchair in the lobby to gain access to permanent seat locations. Scooters will be stored in the lobbies.

Assistive Listening Devices

Sound from the stage is broadcast directly to you by our in-house listening system (Listen Technologies LR-52000-072). This system has a standard 3.5mm output jack, so you can use your own headset or one of our stereo headsets. A limited number of T-coil compatible loop lanyards are also available. Listening devices are kept at the House Manager's station in the lobby prior to and during performances. This service is free of charge, however a deposit or ID is required.

Braille or Large Print

Programs are available if requested at least 3 weeks prior to the event.

For more information about Accessible Services please call 907-263-ARTS (2787) or submit our contact form.
Venue Details
Sydney Laurence Theatre
Alaska Center for the Performing Arts
621 W. 6th Ave
Anchorage, AK 99501