Sweet Cheeks Cabaret
Sweet Cheeks Cabaret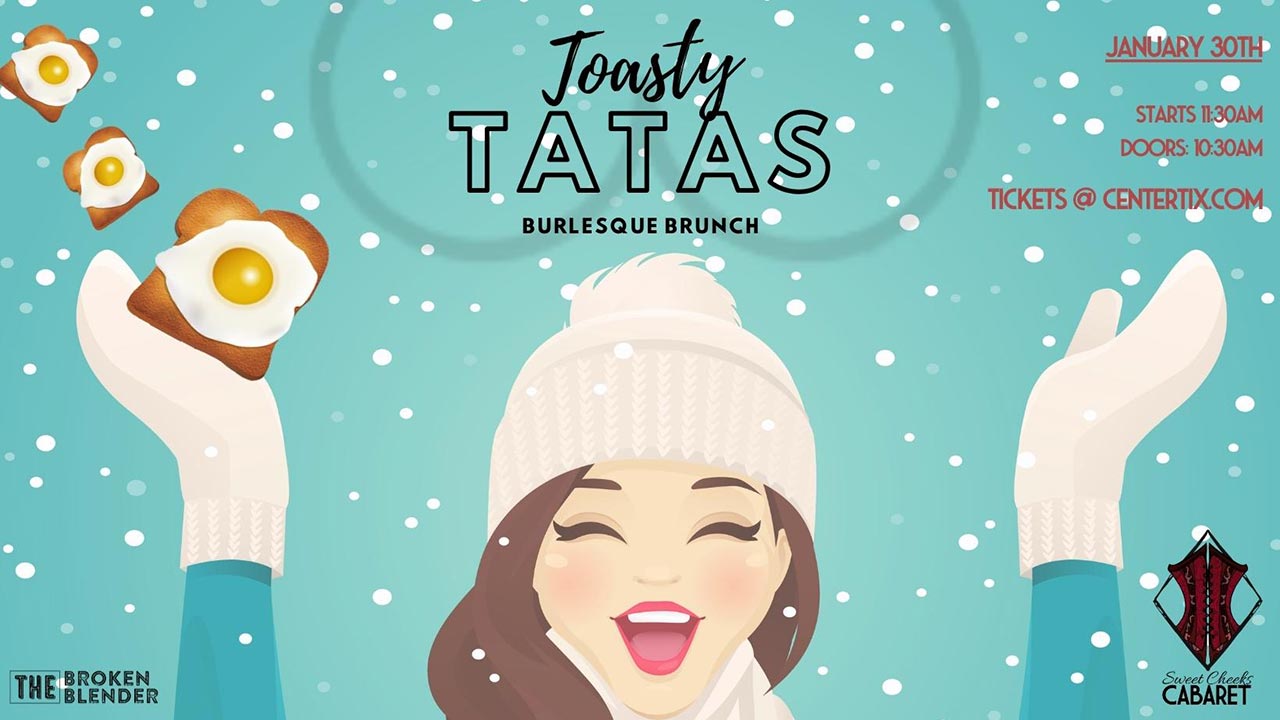 Duration

1.5hrs

Ages

21+

Price From

$18.00
11:30 AM

The Broken Blender

Toasty Tatas Burlesque Brunch

Tickets Off Sale: January 29, 2022 at 3:00 PM

8:00 PM

The Broken Blender

Backstage Pass: A Burlesque Tribute to Boy Bands

8:00 PM

The Broken Blender

Backstage Pass: A Burlesque Tribute to Boy Bands

8:00 PM

The Broken Blender

Backstage Pass: A Burlesque Tribute to Boy Bands

8:00 PM

The Broken Blender

Backstage Pass: A Burlesque Tribute to Boy Bands

8:00 PM

The Broken Blender

Backstage Pass: A Burlesque Tribute to Boy Bands

8:00 PM

The Broken Blender

Backstage Pass: A Burlesque Tribute to Boy Bands
Event Info
It's a comeback cabaret like you've never seen! Sweet Cheeks is back with Sassy Saturdays: a weekly cabaret and burlesque variety show. Different performances each week, complete with live singing, burlesque, dance, and more! Visit our website to see which bombshells are performing next!
Join your Sweet Cheeks Cabaret Performers for a culinary cabaret at The Cheeky Room - The Broken Blender. Live burlesque plus small nibs and drink service available by order!
Tassles & Tux Champagne Pour for VIP guests who purchase a bottle of champagne.

Small nibs and beverage service begins at 4:00 PM.

Cabaret seating begins 30 minutes prior to the show.
Toasty Tatas Burlesque Brunch - 1/30
Burrrr!  It's cold outside!  But we have a hot brunch show to keep you warm.

Chef Bartol at The Broken Blender has created a very special brunch menu AND MIMOSA BAR which is only available at our sassy burlesque brunch!

Get tickets now and let's get toasted!
Backstage Pass: A Burlesque Tribute to Boy Bands - 2/4 to 2/19
From The Beach Boys to Backstreet Boys, from the Temptations to NSYNC, we are taking you on a nostalgic journey to the bands that broke hearts and defined generations. 
Mature Content Warning: Video contains burlesque imagery.
Admission Only
Tickets do not include the price of food. Food and drinks must be purchased separately.
Mature Content
Adult Themes, Language, Nudity, and Sexual Content
Mature Venue
Full service bar. Must be age 21 or older with valid government-issued ID to enter.
Babies & Children
Babies and children are prohibited.
Day of Show
CenterTix sales end at 3:00 PM. The venue box office opens 30 minutes before the show for last minute ticket sales and will call.
COVID-19 Protocols
Self Assessment
Please stay home if you have had a fever or experienced COVID-like symptoms within 48 hours of the event.
Face Coverings
Masks are optional during the show.
100% Venue Capacity
This event will be sold to 100% capacity with no empty seats.
Accessibility
If you already have tickets and are concerned that your current seats may not fulfill your needs, please complete this special seating request form.
Wheelchairs

Some seats have been designated for use by persons with a mobility disability. See map for location. Anyone requiring additional accommodations are encouraged to send us a message from our CenterTix contact page or call 907-263-ARTS to communicate your needs

For more information about Accessible Services please call 907-263-ARTS (2787) or submit our contact form.